By: Stefanie MacWilliams | PlanetFreeWill.com
"We got kicked out of a Delta airplane because I spoke Arabic," said a popular Twitter user. His tweet, and the accompanying video which appears to show him being kicked off of a Delta airlines flight, has been retweeted over 700,000 times.
We got kicked out of a @Delta airplane because I spoke Arabic to my mom on the phone and with my friend slim… WTFFFFFFFF please spread pic.twitter.com/P5dQCE0qos

— Adam Saleh (@omgAdamSaleh) December 21, 2016
At first glance, it appears to be a case of anti-Muslim or anti-middle eastern hatred, but naturally there is a lot more to the story.
It didn't take long for Twitter users to look into Adam Saleh's past – and see that his story seems to be based in far more fiction than fact.
The first clue? In the video, multiple other Delta passengers can be heard saying "Bye!" and telling him to leave. Clearly, he and his friend have angered several people on the plane.
Second clue? This is far from the first time he has caused a scene on a plane. Not only is Adam Selah a popular Twitter user, but a Youtuber with over 1.6 million subscribers, known for his "prank" style videos and vlogs.
The guy from the #boycottdelta video literally makes a career going on planes and throwing a scene. pic.twitter.com/9smBtljt8a

— Ashley Rae (@Communism_Kills) December 21, 2016
Currently, #BoycottDelta is trending, and the airline has released a brief statement.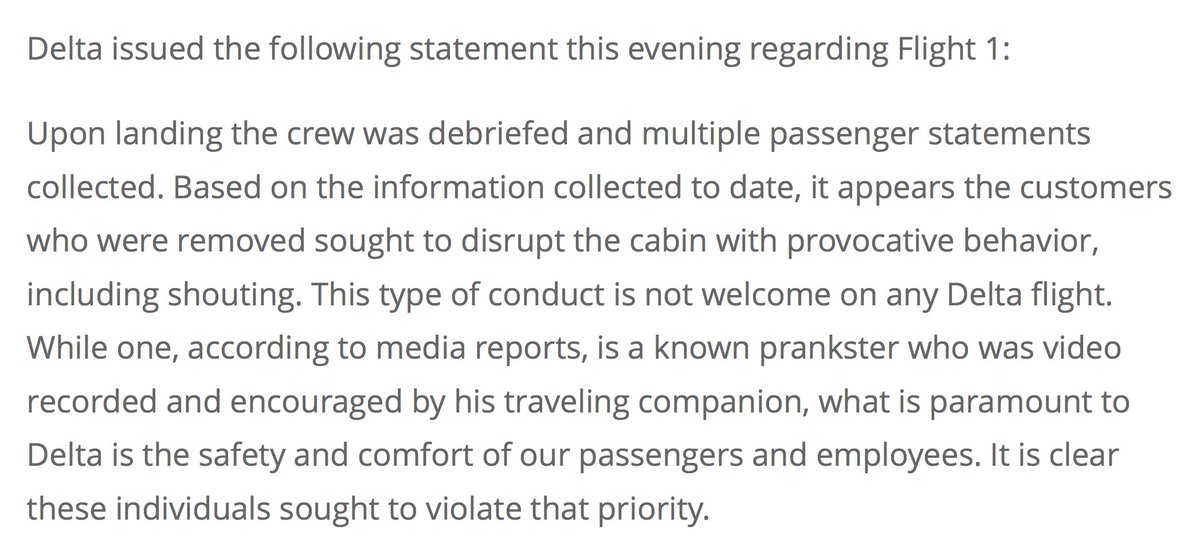 Selah responded on his Twitter, denying Delta's version of events.
Thank you for all your support pic.twitter.com/ukQ4EGVQ6r

— Adam Saleh (@omgAdamSaleh) December 22, 2016
Perhaps his words were twisted – until we have witnesses come forward, it's his word against Delta.
But there's more.
Including this tweet, where Saleh used the #FreeJahar hashtag and sympathized with one of the Boston Bombers.
This tweet has since been deleted, though no public apology seems to have been made.
He has also drawn criticism from several other Twitter users for allegedly using the word "abeed" to describe black people – a word meaning "slave". 
Can't #BoycottDelta or anything else for the group of people who call us Abeed 🐸☕️

— Sugabelly (@sugabelly) December 21, 2016
#BoycottDelta This hashtag taught me what an 'Abeed' is. Yup, that's why I don't blindly support shit.

— Callme (@Rubbishmael) December 21, 2016
Naturally, several media outlets relayed this story without any sort of fact checking. Ah, the fake news irony.
#BoycottDelta trends after @YouTube prankster @omgAdamSaleh says he was 'kicked off' a flighthttps://t.co/rvFGCxffgC pic.twitter.com/NCQE5fqoZX

— BBC News (World) (@BBCWorld) December 21, 2016
Another day, another hate crime that never was.
—
Stefanie MacWilliams is a contributor for PlanetFreeWill.com. She has also been published at ZeroHedge.com. 
Follow her on Twitter @ https://twitter.com/stefanie__92/
Follower her on Gab @ https://gab.ai/stef
Email her @ StefanieMacWilliams@planetfreewill.com
Follow us on Facebook: https://www.facebook.com/PlanetFreeWill/
Subscribe to our newsletter: The Information Leak
Follow our Youtube channel: HERE