By: Stefanie MacWilliams | PlanetFreeWill.com
President Elect Trump held a press conference at Trump Tower this morning at 11AM EST, a little over a week before his inauguration to the office of the President of The United States.
After Buzzfeed News published explosive and spurious allegations regarding compromising information on Donald Trump by Russian state agents yesterday, the President Elect lashed out via Twitter.
He is expected to further address these happenings this morning.
11:15AM EST: "For all this talk about fake news, this political witch hunt by some in the media is based on some of the most flimsy reporting, and is frankly shameful and disgraceful." says Sean Spicer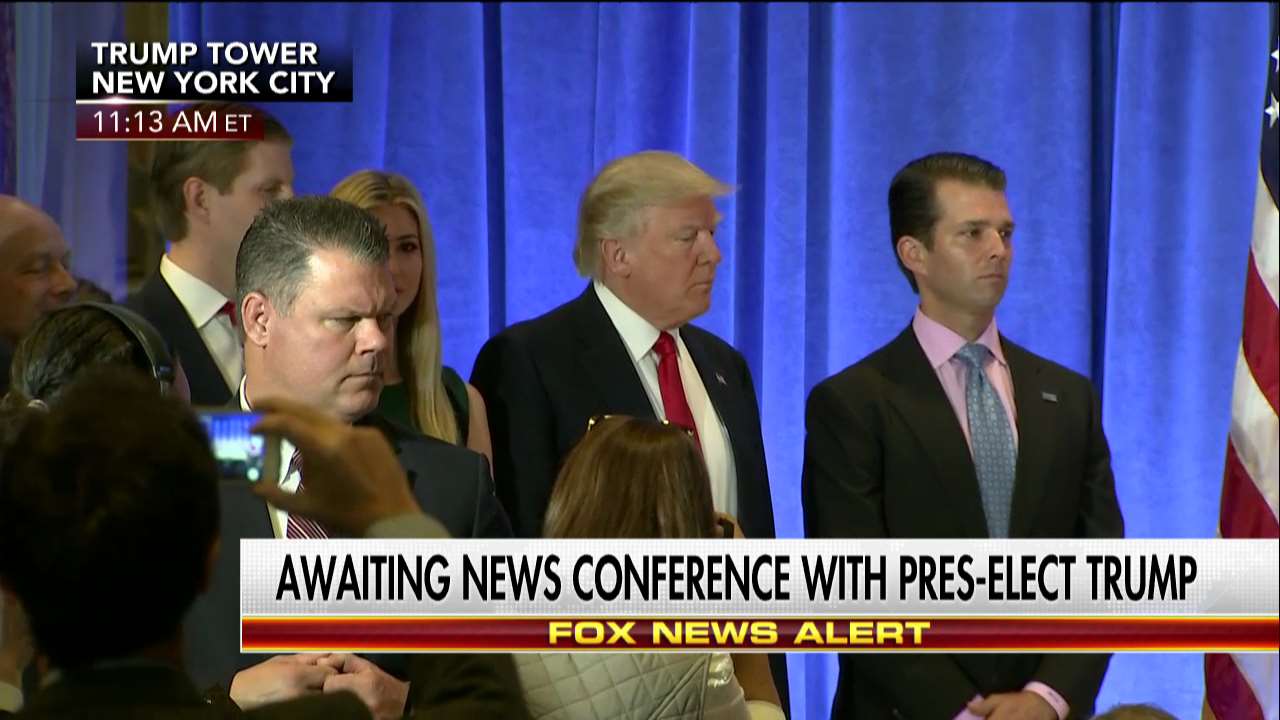 11:20AM EST: Vice President Elect Mike Pence announces Trump, slams media, stating that "I have long been a supporter of a free and independent press, and I always will be. But with freedom comes responsibility."
11:25AM EST: Trump wasted no time in addressing the accusations being made against him, stating that, "Maybe the intelligence agencies" were involved in the dissemination of the allegations.
The President Elect took the time to thank certain news organizations who were committed to the truth, and slam other certain news outlets, though he did not explicitly name Buzzfeed news.
Trump stated that "big news" will be announced in the next couple of weeks regarding manufacturing jobs being moved back to the United States. He also spoke about the lobbying and special interests involved in drug prices.
"We're going to do some big things on the F-35 program, and perhaps the F-18 program, and we are going to get those costs way down." stated the President Elect, noting the positivity of the general public and the positive outlook of business in America, even stating that he would be the "Greatest jobs creator that God has ever created."
He also shared his excitement about his upcoming inauguration on January 20, and spoke about reforms regarding Veteran's Affairs.
11:30AM EST: Trump opens the floor to questions from reporters. The first question related to the Russian hacking allegations as well as the allegations published by Buzzfeed News yesterday. He repeatedly referred to the latter allegations as a "disgrace" and stated that "it's all fake news, it's phony stuff. It didn't happen."
He noted that "As far as hacking, I think it was Russia. But we also get hacked by other people." and pointed out other recent foreign hacking incidences that received little public attention.
"We have some of the greatest computer minds anywhere in the world." Said Trump. "We're going to put those minds together and form a defense. The DNC was totally open to be hacked, they did a very poor job."
He thanked Reince Preibus for preemptively upping cyber security at the RNC to ensure that the same thing did not happen, noting that he believed in Vladimir Putin had information from the RNC, it would have been released prior to the election.
"Hacking is bad. It shouldn't be done. But look at the information." He said, noting that Hillary Clinton received debate questions among other things, and that it was barely reported in the media.
"If Putin likes Donald Trump, I consider that an asset, not a liability." Says Trump in response to a question about whether or not he believes Russia sought to help him by way of hacking, citing the DNI intelligence report. He also believes Russia will be able to help the United States fight ISIS.
"Do you honestly believe Hillary would be tougher on Putin than me? Give me a break."
Trump went on to state how difficult it would have been for him to be in Russia participating in the sort of actions he was accused of  yesterday, considering the high level of surveillance of a person of his public stature.
When asked about his tax returns, he gave the same answer he has been giving for months: "No, because they're under audit."
He noted that only reporters care about the content of his tax returns, to cheers from the crowd.
11:40AM EST: Attorney Sheri Dillon gave a speech explaining how she and her law firm would assist the President Elect in separating himself from his business interests, stating that the PEOTUS is "committed to ensuring these activities of the Trump organization are beyond reproach and cannot be perceived to be exploitive of the office of the president."
You can read her full speech here. 
12:00PM EST: Trump returns to the podium, takes more questions. He brings up the current hearing regarding Rex Tillerson as well as yesterdays hearing regarding Attorney General nominee Jeff Sessions. He states that he is proud of the cabinet he has assembled.
Trump states that "Our trade deals are disaster." and notes the trade imbalances with other large nations.
"We don't make the deals anymore. So we need people that are smart. We need people that are successful."
The President Elect, when asked about his plans to repeal and replace Obamacare, stated that: "Obamacare is the Democrats problem. We are going to take the problem off the shelves for them….We could sit back and let them hang with it."
Though he did not go into a large amount of detail, he attempted to reassure the public, stating that "Were going to have a healthcare that is far less expensive and far better. Okay."
Trump also re stated his attitude towards bringing jobs back into the United States, saying that "You got a lot of places you can move. I don't care. As long as it's within the borders of the US, there will be a major border tax on these companies that are leaving and getting away with murder."
When asked about building the wall, Trump stated that his plans have not changed. He states he does not blame Mexico for what has happened, but the stupidity  of leaders in the United States.
"I respect the government of Mexico. I respect the people of Mexico. Love the people of Mexico."
When pressed on this morning's tweet asking whether he was living in Nazi Germany, he stated that it was the sort of thing that happened in Nazi Germany, and reiterated that "I think it's a disgrace that information that was false and fake and never happened got released to the public."
The energy in the room became quite explosive as Trump called out news organizations as "fake news" and refused questions from reporters who were interrupting and "being rude."
When asked about possible reforms to deal with "fake news", he stated that he does not want reforms, but to work with journalists with a "moral compass". He notes that in his case, he can speak back and be heard – but that "When it happens to somebody that doesn't have this — doesn't have that kind of a megaphone, they can't speak back. Is a very sad thing. I've seen people destroyed."
He says he "can only ask for honest reporters."
When asked about American intelligence agencies, he affirmed their importance, and stated that "Within ninety days, they're going to be coming back to me with a major report on hacking. I want them to cover this situation."
POETUS was asked to confirm again that he was not connected to Russia during or before the election, and asked "if you indeed do believe that Russia was behind hacking, what is your message to Vladimir Putin right now?"
Trump stated this:
He shouldn't be doing it. He won't be doing it. Russia will have much greater respect for our country when I'm leading it than when other people have led it. You will see that. Russia will respect our country more. He should not have done it. I don't believe he will be doing it more now. We have to work something out, it wasn't just Russia. Take a look at what's happened. You don't report in the same way. Twenty two million accounts were hacked in the country by China. And that is because we have no defense.
Trump closed the press conference in his usual style, referring to his two sons running his businesses and stating that "I hope at the end of eight years I'll come back and I'll say they did a good job. Otherwise, if they did a bad job, I'll say — you're fired."
IMPORTANT NOTE: This article was written while the press conference was live, and therefore some information is paraphrased or summarized. We seek to share the most relevant information and we encourage you to watch the full press conference here.
CORRECTION: The introduction speech was given by Sean Spicer, not Reince Preibus as originally reported.
—
Stefanie MacWilliams is a contributor for PlanetFreeWill.com. She has also been published at ZeroHedge.com. 
Follow her on Twitter @ https://twitter.com/stefanie__92/
Follower her on Gab @ https://gab.ai/stef
Email her @ StefanieMacWilliams@planetfreewill.com
Follow us on Facebook: https://www.facebook.com/PlanetFreeWill/
Subscribe to our newsletter: The Information Leak
Follow our Youtube channel: HERE